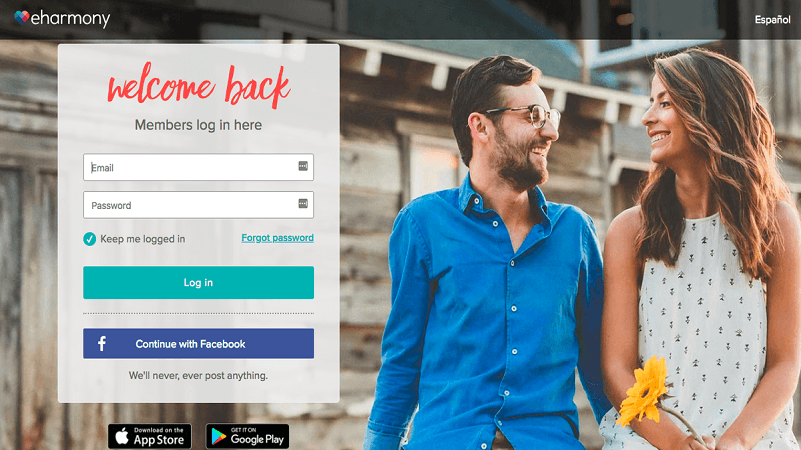 Los Angeles-based eHarmony (www.eharmony.com) launched in the United States in 2000 with its patented Compatibility Matching System® which allows eHarmony.com members to be matched with compatible persons with whom they are likely to enjoy a long-term relationship. Millions of people of all ages, ethnicities, national origins, and religious and political beliefs have used eHarmony's Compatibility Matching System to find compatible long-term relationships. 

User Experience on eHarmony.com
The user experience on eHarmony.com is 100% personalized for each individual user. But also very restricted. This isn't a site to throw out "Hi, how are you" or other generic messages and wait for responses. Instead, users can only see those people the site has identified as potentially good matches for them (so that means there are no browsing or searching features available). Members discover others based on the intentionally limited number of matches the site shows them each day. 
The more one uses the site. The more matches, and encounters that are possible. But due to the nature of only seeing a hand-picked yet small percentage of the total site membership each day. The online dating process on eHarmony.com is slower and more calculated than that on other online dating sites. This, of course, could be a deterrent to some. But with the tried and true success, eHarmony has in facilitating lasting romances. And marriages, in addition to numerous awards the site has received over the years. It's reasonable to consider dropping your need for instant gratification or mass attention in order to achieve real love. 
RELATED ARTICLE: EliteSingles.com
Frequently Asked Questions
Does eHarmony.com really work?
Yes, I would say eHarmony does work. It is one of the largest and most successful dating sites. It primarily targets those seeking long-term partners or meaningful connections.
Why we join eHarmony.com?
Eharmony is a very famous website on the internet. Many people share there positive experience about this website. eharmony is dedicated to finding loving, long-lasting relationships for singles.
Is eHarmony.com is free?
Joining is free on eHarmony you can create your profile and watch other profiles. If you want to use eHarmony to start chatting with people and finding that special someone, you are going to have to pay for an upgraded account.
Is eHarmony worth it?
Well, I think eharmony is a bit different from other dating sites. Success rates are good for finding your partners in eharmony.
How safe is eHarmony.com?
According to eHarmony privacy policy When you register for an account or subscribe to any of our Services, we collect a variety of information about you, including your contact information such as your name, email address, contact number, mailing address, date of birth, dating preferences, etc. We store information in a combination of electronic storage facilities, paper-based files, and other records. While we cannot guarantee your personal information is completely secure at all times, we have administrative, organizational, technical, and physical security measures in place to help protect against the loss, misuse and alteration of the information collected and processed.
What kind of cookies does eHarmony.com use?
We use certain cookies to make sure that our website and our Service is easy, secure and safe to use.
How do I delete my account on eHarmony.com?
If your account does not have a subscription, you can delete your profile within your account by:
Clicking on the arrow next to your photo at the top of the screen to open the dropdown menu
Clicking the Data & settings link
Under the Profile Status section, click the link within To permanently delete your profile, click here On the following page you can confirm the permanent deletion of your profile
How success rate for eharmony site?
Success rate for eHarmony, less than 40%. eHarmony may have a good reputation on the surface, but we took the liberty of checking whether it is a dating site worthy of your time. People who stay on this site have most likely upgraded their accounts. This can be pretty costly so, there is a huge possibility that you'll match with someone who is already stable.
Should I try the eHarmony.com?
If you are looking for a serious relationship, then this site is probably worth a try. Most of its members are in the age of settling down and building a family. eHarmony is in conjunction with the basic interface it might wear it has the web version. It is clean and easy to navigate and does not have a lot of promotions to deal with. The app allows easy scrolling through your match list and favorites' list.
How can I contact eHarmony.com?
There are many options to contact eHarmony, goto about and then contact. There are Help Center, Careers, Press Inquiries, etc. You can check their Help Page if you have any issue and questions regarding your account.
Phone Number: +1-626-628-3467
Address: 10900 WILSHIRE BLVD,
Los Angeles California, 90024, United States
Reviews
A totally useless site
A totally useless site, I consider myself an intelligent person but how it is supposed to operate is a complete mystery. I am told someone has sent me a message but it does not appear under the Message section. Avoid like the plague and go to a site such as Telegraph Dating which is straight forward to use and open.
This site blocked me
This site blocked me without cause twice in a row, wouldn't explain why and disappeared a month before even issuing a refund! I couldn't read nor respond to messages, making me look fake and sabotaging my love life- on the weekend too!
This site is a waste of time and money!
This site is a waste of time and money! All they do is play musical chairs with pictures of supposedly eligible singles and right non sense for them. Wonder if these people know their pics are being used! Was on hold too long as I attempted to speak to customer service. No one picked up just repeated a recording stating they were responding to other callers. Not very good customer service!
Fake profiles
I signed up 1 month age, from the 50 profiles I contacted, 45 were fake profiles, scammers, had 1 phone conversation, and 4 so far have not contacted me back. I assume fake profiles. In my opinion this was a waste of money. When I sign in I notice a large amount of activity, and receive about 5 flirts in 10 minutes.?? Is this scamming algorithm? You can judge for yourself. My opinion it's a waste of money, too many scammers and fake profiles on this site.
I would not recommend this site to anyone!
This website is a total waste of money. I've had more opportunities on other dating site which is free! Their base is very very conservative, lots of christians and lots of ppl who will waste your time. I would not recommend this site to anyone!
Don't join this service!
Don't join this service! They take your money and won't refund it. They send you profiles with no pictures after you tell them you want pictures. Or pictures of people who don't respond because they are no longer using the service. Or scammers that will respond to you. You will be wasting your time and money. Then they won't allow you to delete your profile so they can continue to use it. They themselves are scammers! Don't fall for it like I did!
Don't bother wasting your money
Don't bother wasting your money on this site, you are better off looking for potential matches on popular sites. I made the mistake of trying something different due to my age but that was a big mistake and a waste of over $100. There are very, very few singles. I have a graduate degree and asked for individuals with a similar education but that didn't happen and still doesn't. I am trying to be careful here and not be condescending to other people and their background. It's not what I am looking for and am not happy with wasting money on a site that definitely has false advertising.
I am just so disappointed
I am just so disappointed in their unprofessionalism.
Worst website ever
Worst website ever. It's a total scam. The 'customer service" line won't let me cancel my account. I'm gonna hack aka brute force attack code. This site is garbage and I'm gonna make sure they are shut down
Hopeless app
Hopeless app. Account deleted for no good reasons. Request for help fell on deaf ears. Each attempt to create a new account – I am a genuine guy, not a pervert or scammer – was also blocked and deleted within a few hours.
Negative experience
Too much advertising on YouTube it interrupts every single video, so that just irritates further after my negative experience. I downloaded it last year and it kept showing me matches in other countries when I put the settings within 20km.
What a scam
What a scam. Save your money.
Thanks
Didn't like carousel feature. Didn't like men outside my age group contacting me. Didn't like having to potentially pay to see a profile. But I love that I got lucky early on a met a great guy. Thanks
I think it is bull
I think it is bull that you have to buy coins when you have paid for the membership. I stated to meet within a 50 mile radius and it would show members all over the country and the ones furthest away
Totally despicable
Totally despicable and dishonest site !!!
Seems like a waste of time
Seems like a waste of time – and potentially a waste of money too.
Its gives you poor matches
Its gives you poor matches and doesn't give you the chance to search. You just have to accept what matches they give you. From the start, the autorenew facility is switched on and no warning is given in advance so it automatically renews after 6 months and there is no right to cancel. The first thing I would so is go in and turn off autorenew. Saying that, there are better sites that do allow you to search.
Such a scam
Such a scam. Don't trust this site.
Thank you I've found the one
Thank you I've found the one, my best friend! The connection between us is electric, I never thought this would happen! He is the man I've been looking for my entire life! These are the first days of the rest of our lives!
I would recommend this site
Great dating site I met my partner on here. Easy to use and navigate. I would recommend this site, it is safe and a friendly environment. It was in expensive and could in subscribe when I wanted.
Meet the girl of my dreams
Meet the girl of my dreams. Anna is the love of my life and am so happy I met her on this site. Never been happier in my life!
I greatly appreciate
I greatly appreciate the help and the excellent customer service skills. The team is a asset to the company with their great personality.
Everything was perfect
Everything was perfect, good job guys!
I love this website
I love this website, there are lots of interesting people here. I want to share my happy experience with you. I met my girlfriend here and we are happy together for 2 years already.I wish everybody to find their soulmates.
Easy to use.
Easy to use. I found the woman of my dreams. We are so happy together. We do things together and we enjoy each other's company.
They provides many helpful safety tips
They provides many helpful safety tips to ensure users have a pleasant experience and use good judgment while mingling online. These dating experts encourage users to always meet in public, go at their own pace, and trust their instincts.
Amazing website!
Amazing website! I'm very thankful to for meeting my stunning girlfriend! Less than year ago I didn't trust any kind of such online sites but now I see that it works.
Thanks for everything!
Thanks for everything!! My experience has been great and it really worked I'm very pleased with the woman I met thanks a million!!
Do not trust this site
Do not trust this site so called dating site its just there to take your money as I said it should not be in operation!
Just stay away
Just stay away. There are better places to meet a higher quality of people.
This site is a Fraud.
BEWARE! DO NOT give your credit card Info to these Scammers!!! This site is a Fraud.
Fraud artists
The staff appear completely unable to control the scammers and fraud artists. If Zero stars was an option; that's the rating I would give.
They steal money
This is how they're trying to get around being sued for fraud the first few times they broke their own terms to steal money.
Eharmony.com is a scam!!
Eharmony.com is a scam!!!! Don't waste your time and money. TRUST ME
Stay away from Eharmony
I've been a active member of Eharmony.com for over a year….Getting help, finding customer service # or email address or contacting their business office is made intentionally difficult.Instead if you spend hours going thru their hundreds of questions eventually I suppose I'd find the answer. There are so many things that Eharmony never tells you about how to manage chat…… messages, etc. They leave it open to each individual to learn how to operate their site. I've never ever known what the small circular colors mean next to the people online or chatting…. Most of the women you choose you'll never hear back from. Do the attractive pics really represent serious & motivated people or merely bait to attract men & money????
Eharmony is a big scam!!!
Its a big scam!!! They use Models pictures on their website, all their bio is the same and scripted. They all have the same automated message, hello Dear, you are beautiful. One automated one i got was beautiful eyes you have then thank you to himself!! Someone needs to report these frauds asap. They are in Malta
Complete Waste of time and money
This website if full of inactive profiles. I was recently matched up with someone who turned out to be a fake profile. You really don't know who are on these website, there are a lot of freaks out there these days. I would recommend you meet someone by going to a bar, concert or just "throw caution to the wind" and walk up to someone in your local starbucks and ask them out. Seriously, online dating is just a waste of time. I have tried POF, Match and now eharmony. They are full of the same idiots. Luckily I only paid about $150 for the year.