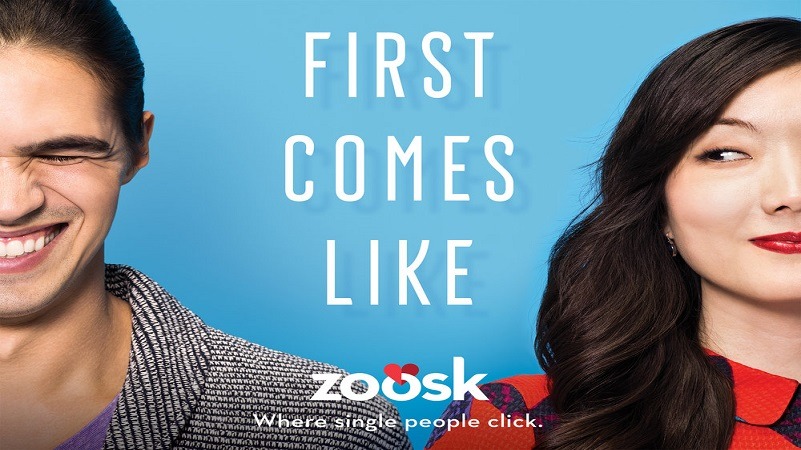 Zoosk.com began as a Facebook application in December 2007, and now it's a global dating site with millions of registered users to its name. Zoosk is a unique dating company on a mission to seamlessly integrate social networking and online dating. The dating website and app provide singles with an intuitive dating experience with affordable and customizable communication tools at their disposal. Zoosk attracts a fairly young crowd of singles looking for casual dates and deep relationships in a fun online environment.
The Dating Website – Zoosk.com
One major part of Zoosk's appeal is its simplistic, straightforward approach to finding people on the app. You don't have to submit to the Internet equivalent of a psychological examination or fiddle with the interface for hours to get the site working. There's also no home screen, home feed, or any other source of abundant information that falls on you all at once. When you're beginning your Zoosk.com section. Rather, the site and app feature clear-cut sections that display individual profiles one by one. No matter which part of the site's functionality you're using. With one profile in front of you at all times, there's no confusion about what you're doing. And no irrelevant stuff to distract you from the task at hand. But, despite this focused approach, Zoosk is really a chill, low-pressure experience.
Navigating between profiles is quick and seamless. So there's no need to take immediate action. When you see an appealing person unless you're playing Carousel, which is the site's hot-or-not game.
RELATED ARTICLE: RussianBrides.com
Frequently Asked Questions
How do you find someone on Zoosk?
After creating your Zoosk account you should be able to use the search feature to find different people according to different criteria that you set up in your search.
Can you message on Zoosk for free?
No you can't read message for free. If you want to read or send any messages, you're going to have to pay for it.
How can I request the deletion of my data from Zoosk?
If you'd like to delete your data from Zoosk, send a request to Zoosk Customer Support team at [email protected].
How to update my information on Zoosk?
Open your web browser,
go to zoosk.com, and log in to your Zoosk account.
Click on your Zoosk display name in the top right corner of your screen.
Select My Profile.
This will take you to your profile where you can view and change your photos, basic information, story, perfect match, and ideal date by clicking the Edit or Add link next to the information you'd like to update.
Is Zoosk have a free trial?
Joining is free for a Zoosk subscription but there still are some limitations to the free version. Zoosk provides a free 30-day trial.
How much cost of Zoosk membership?
Monthly prices listed for a Zoosk subscription is
$12.49/mo for six months.
$19.98/mo for three months.
$29.95/mo for one month.
Is Zoosk worth it?
Modern days online dating website is terrible so everyone is very scared to join a dating site. Zoosk is an excellent choice for modern singles looking for serious relationships. Most profiles are straightforward and complete, making it easy for you to determine whether the account you are viewing is a match or not.
Why we join Zoosk?
Zoosk is far more efficient! The logical way to sort and meet others you might have an interest in. A good percentage of the member base is active in the site. Members often use the site to look for serious dating and long-term relationships. The matchmaking functionality is excellent.
What are the pros and cons of Zoosk?
Pros
40 million members worldwide
Most members are within the age range of 25-34
Search by age, location, religion, education, height, body type, and more.
Send a like or smile to someone for free.
Cons
Zoosk is very expensive
Zoosk charges a one-time activation fee of $24.95 in addition to the subscription cost.
The Auto-Reply system can mislead users
How is Zoosk different from other dating sites?
Zoosk is one of the most popular dating sites in the world. It has a clean design that makes the site really easy to use and interact with other members. The matchmaker functionality that Zoosk offers on its dating platform is different from other dating sites.
Phone Number: +1-888-939-6675
Address: 989 Market Street,
San Francisco CA, 94103, US
Reviews
I just canceled my subscription
I just canceled my subscription because I wrote that the men there would not even reply to my messages once I told them I'm overweight and then all it was deleted by whom ever is unchanged of the site which it leads me to believe that is a man anyhow I hate the site it's does not have good customer service actually is nonexistent!, the members here have been here for years and it's not about them anyways, it's about the site itself I would not recommend it for anything the worst site in the dating industry period!!!!!!
Sites are full of scam
Most of these dating sites are full of scam artists especially pretending to be females or may be real trying to scam people into getting monies from someone who can be victim to their charm & gets ripped off.
I don't want to insult
I was trying to get a refund after trying and looking for a day but no answer. I finally got a hold of someone who told me I have to ask Apple for the refund. I wanted to cancel because the clients they have are not the features I was looking for. I don't want to insult but this is a site to distance yourself.
Lots of scammers
What a terrible service. I signed up and paid for 3 months and cancelled on day 3. They give you fake profiles, send you "stock" messages from supposed admirers. Lots of scammers trying to get your private info.
Some of them are nasty
They dont talk to you ever they disappear and when you dont give them the info they want they disappear. Some of them are nasty
The site is useless
The site is useless: matches are ridiculously inappropriate and unavailable. There is no search option. The only thing I regret is having wasted a few months of my life on this site. Now I'm having troubles trying to remove my account. They are not willing to let people go so they deliberately make it difficult to cancel.
Service is ten times worse
This company is nothing more than a common criminal taking your money. The site/app quality is $#*! and the service is ten times worse – if you can manage to get a hold of anyone.
Stay away from this site!
I would not recommend this site. I signed up for 3 months. Matches were often from way too distant locations and the suggestions did not correspond to my criteria. When I attempted to cancel my subscription before my renewal date I was informed I could not! Still awaiting resolution for this. Stay away from this site!
This site is such a bad deal
This site is such a bad deal. Never ever join this site if I was there when their ass was on fire I would not waste my piss to put it out. Never ever sign up at this site..
I just cancelled my membership
I just cancelled my membership so I asked them to speak to an manager or supervisor they play on the line for about 10 mins then hung up on me. So if I get charged for any of there other services I let it be known I will be doing a lawsuit I'm not playing. When you have no membership all the so called ladies are in ya inbox but when you get a membership you don't see nun of em it's all fake.
Cancelled my subscription
Cancelled my subscription, tried to contact to complain as still taking my money, £2.99 a day and its coming out even though I have no use of my account, not replying to any messages on the chat or messaging service and no direct number to get hold of any one, absolute scam
Don't Like it
I just got banned because of unknown "innapropiate and abusive behaviour" I have never abussed or harassed anyone, so this feels more like people are falsely reporting me. The only negative thing I've ever done is unmatching someone. This is a company with unfair arbitraty practices to discriminate users.
It has fake profiles
Like many other sites, it has fake profiles. DON'T give them money. You can also turn on your money. You will never get value on this site. Complete detachment.
Don't waste your money
Don't waste your money buying frustration. These guys barely managed it and their site is a joke, a bad joke.
Overall its a great
Overall its a great means to find the perfect fit for you.
Please stop sending automated messages
Please stop sending automated messages that seem like they are from the person you liked.
It is a straight up scam
It is a straight up scam. You might as well just set your money on fire now, rather than waste it on the clowns running this site.
It is obviously a scam
It is obviously a scam and I will tell everyone I can.
Avoid this site at all costs
I paid for a membership and it seems most profiles are fake. You are contacted a lot but you are almost immediately asked to leave the site for Hangouts or WhatsApp. The profile says they are in the same city but they are not. Not one "person" I spoke to was in my city. Everyone ended up wanting money for a scam. Reverse search the images and they are of different people. Avoid this site at all costs as the US government sued it for fake profiles put up by criminals
Save your money
Fake profiles, waste of money. Only get likes from interstate, the woman are very pretty, but all a scam. Profiles are all similar, minimal effort/ wording – say two and I have cancelled subscription and deleted the app.Save your money.
I'm the happiest
After almost 12 mths of searching on here,- many coffee dates and chatting with potential partners, I almost gave up on love. After meeting many women and finding no spark between us, I was close to quitting and then I came across this lovely girl, who says, she looking for love! We exchanged messages and now we are inseparable, in love and committing to each other forever. I didn't give up and now I'm the happiest I've ever been.
Good site for locals
Good site for locals although no filter for mileage distance. Need a filter added to prevent unrealistic long distance relationships as an option.
Best dating site
So far the best dating site I've found. It feels so good to talk to the attractive ladies. Hope to tie up with someone in the near future. Working on it!
I would recommend this to everyone. Good luck.
I would recommend this to everyone. Good luck.
Amazing website
Amazing website if you are looking to settle down or dating. I found my soulmate! I met the love of my life 3 day after signing up, He messaged me and we starting dating right away. He completes me and thank you dear for the help!
I am really excited!
What a surprise! I was looking for a dating site of a good quality and have found exactly what I wanted. I am still getting used to this platform, but I have quite high hopes for it, I want to find friends and soulmate. I read reviews of other users, so I am really excited!
The platform is really good
The platform is really good. The price could be lower but nowadays you should pay for almost everything. At least you pay for the platform of the good quality. There are some pros and cons but it would be really strange if the site was too good.
That was great
That was great, was only on it for a few days but that was all it took for me to meet the woman I was looking for. She is so amazing and feel lucky to be moving forward with her now!!
Never thought I would meet
Never thought I would meet my future wife on a dating site. Guess who is about to get married to a girl she met on here
Fake site
Warning this is a fake site that takes your money..non of the profiles on here are real its some phsycho using fake pics and taking money.
Cowards
Easy to steal from folks you don't have to face. Cowards?
Never pay for a subscription
Never pay for a subscription or you will be very sorry!
Another dating site with fake profiles
This is another dating site with fake profiles and fake personalities that do not exist. Sometimes I feel they have hired people just to play games with customers showing themselves as interested parties but the reality is that there are none or very few women on there. I have been on this site for 3 days and it is very simple to see that they are playing games with everyone.
Stay away
Full of trolls, fakes, phishing scams. Stay away.
Biggest rip off site
Read this before you join Zoosk is the worst biggest rip off site of them all they charge you for everything. After you sign up they Dell you coins that you need to exist on the site you pay to view members then you pay to contact them you pay just to find out about your matches even you pay again to unlock thierprofiles again you pay to get information on members that say they want to meet them and on and on all this really adds up I am on a couple of other dating sites that are ligit but once again this site should be outlawed.
Zoosk is exploiting members profiles
When a member views another's profile there is a view alert sent to the viewed member. Afterwards, an automated program alerts the viewed member of repeated views (at different times by the same previous member) that never happened. Zoosk is exploiting members profiles by false representation. What does this create other than bogus activity, unwarranted thought and misleading the very people whom the site was intended for the betterment thereof.
I feel like that zoosk is not the best website
I feel like that zoosk is not the best website because most of the guys are looking for ass and drink a ton and smoke weed not an attractive quality at all not looking for a gangster